Nonnabots, laser cutters, 3-D printers, laser engravers, CNC milling machines, microprocessors… sound like something out of Aldous Huxley's Brave New World? Nope, just the Food Innovation Program on the road.
On the 8th of October, FIP packed up its mobile Officucina and headed north to Parma's Officine ON/OFF to present a digital workshop and showcase its latest tech tools. "Wait, what's Officine ON/OFF?" we hear you ask curiously.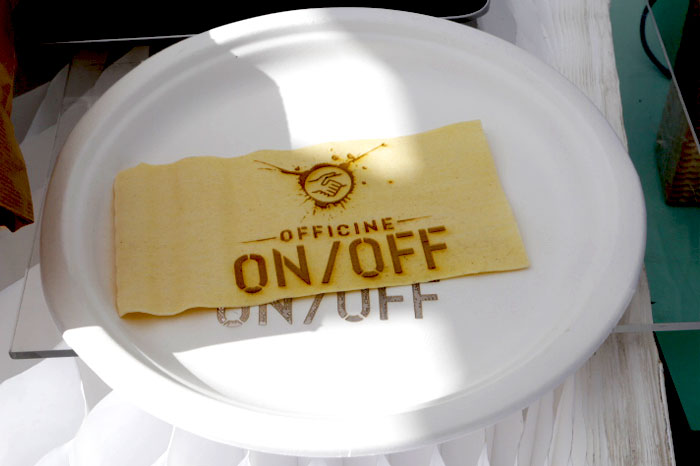 Well, Officine ON/OFF is a unique space on the outskirts of Parma's city centre that hosts 34 co-workers, 50 makers, 35 artists, 9 collaborative groups, weekly events and tech courses. It was created to support employability, self-employment and entrepreneurial spirit, to fight early school leaving and youth unemployment, and to promote social and technological innovation within the region.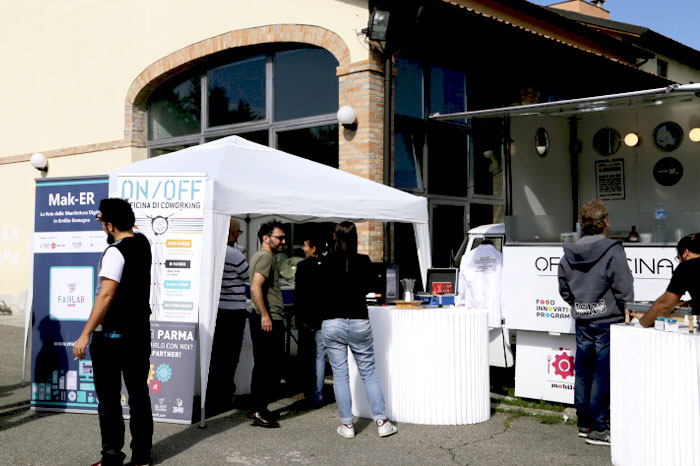 FabLab Coordinator Pietro "BlaBla" Dioni, who has been awarded this nickname for being a fantastic conversationalist, adds, "Since its birth, Officine ON/OFF focuses on a virtuous circle that connects youngsters and local community in a mutual support point of view. Young people can give back to the community the opportunities received thanks to this virtuous circle, making available some of their time and their skills in support of social projects." He goes on to explain "the two main areas that characterise Officine ON/OFF are the co-working space, where freelance workers share ideas, experiences, tools, networks and business opportunities; and the FabLab, the laboratory for digital fabrication created by a working group made up of human capital and professional skills, and based on the principles of share, learn and make."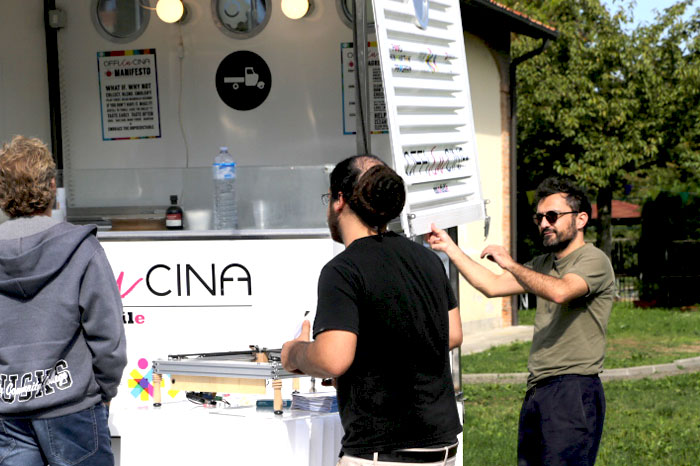 FabLab Parma started after a call for makers in March 2014. They began their pursuit with only one 3-D printer, but are now waiting for a large format laser cutter. "Funnily enough we don't do a lot with food, but we have done projects related to several other sectors," says Dioni. "We have a group of people who are working on tools for people with disabilities, and we have the heritage lab, where a group is working in the heritage world, where there is not a lot of money, and digital fabrication could really help this sector," he says.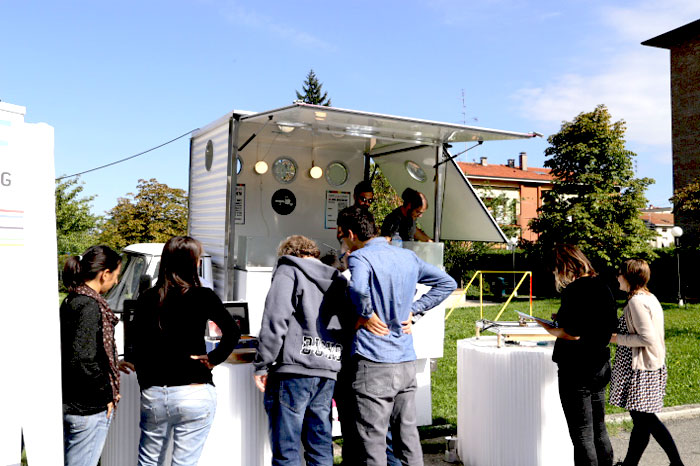 Our 'on the road' team – Director of Officucina Francesco Bombardi, and FIP Fellow/Tech Guru Antonio Gagliardi, came armed with a series of innovative tools to showcase how digital fabrication has been applied to the Master course. The products on display consisted of the nonnabot, an avant-garde machine that can actually be used to cut pasta, a laser engraver that cuts out logos (onto bread, plates and other soft materials) as well as a 3-D printer that makes little chocolate figurines.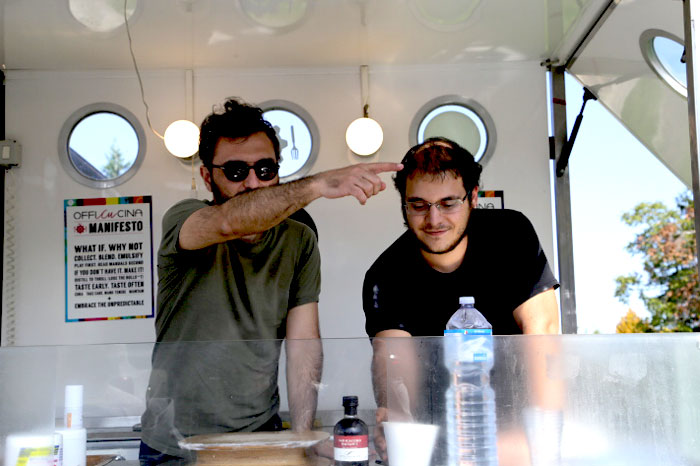 The laser engraver was a huge hit, especially with the Parmamorethanfood team, who got to engrave their logo onto a piece of bread. Having only recently launched, this culture and tourism initiative for the city of Parma which incorporates bicycle itineraries, digital/visual storytelling and digital fabrication in 3D, is already making an impact. The multi-skilled team consists of a graphic and web designer (Francesca D'Onofrio), a 3-D archaeologist (Giulio Bigliardi), a social media/web marketing specialist (Luisella Curcio), and a bicycle enthusiast who graduated in gastronomic sciences (David Pagani). Along with bread-logo engraving, we hope that the Food Innovation Program can continue to collaborate and support them in their work.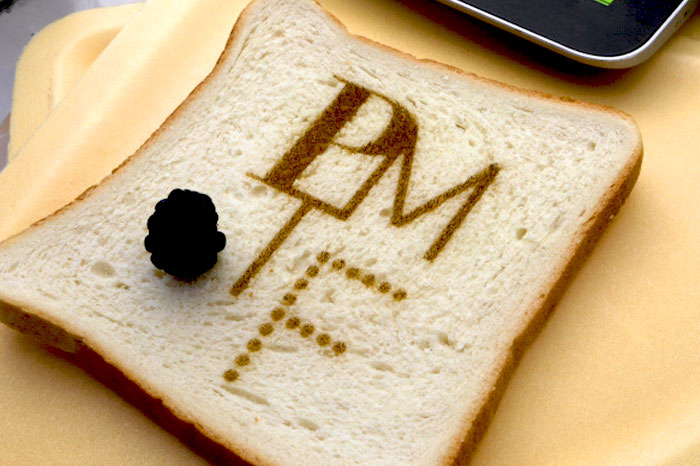 FabLab Parma and FabLab Reggio Emilia are both part of the Mak-er network the first network of makers and FabLabs in the Emilia-Romagna region. FabLab Reggio Emilia was one of the first FabLabs to open in Italy. "I met them both [Francesco Bombardi and Fernando Arias Sandoval of FabLab Reggio] and it was love at first sight…. they are both great! I am sorry Francesco left the FabLab Reggio but he continues to be involved with the makers movement, and the Officucina and the Food Innovation Program are great opportunities to see the evolution on what you can do with low cost digital fabrication," says Dioni. "The ad hoc tools for the digital fabrication applied to the food industry are only at the beginning… we will implement in the next year also something similar on tools for the food industry."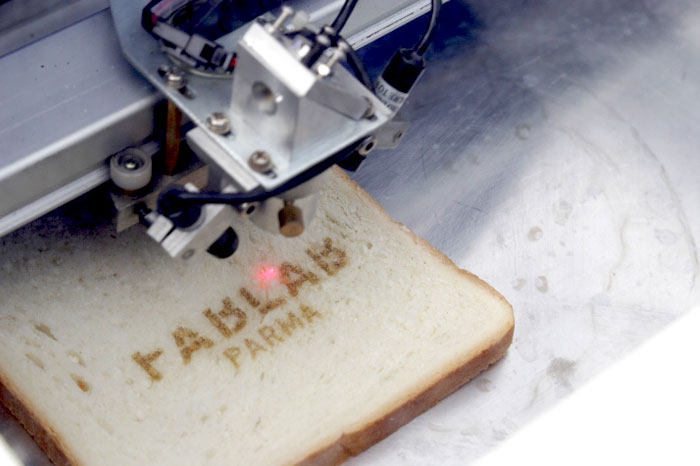 We look forward to seeing what FabLab Parma has in store, and can't wait to collaborate on more digitally fabricated food projects together in the near future.