Founded in 1922, Angelo Po's Factory hatched from humble beginnings when Angelo designed and built his first painted stove 'La Carpigiana'. Over the years the company evolved from a small-scale craft workshop into a wholesale factory, satisfying market demands for modernity and progress, particularly following World War Two. With the introduction of mains gas supplies, the company moved from low-cost stoves to its first large-scale professional appliances for canteens, army barracks and hospital kitchens, a service it still fulfils today.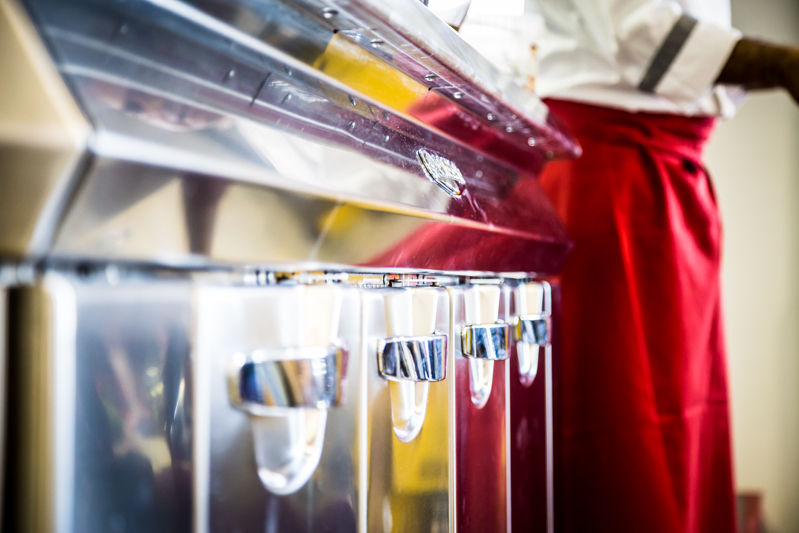 This all-Italian company, which was handed down from Angelo to his sons, Alberto and Alfio, and subsequently Angelo's grandchildren, Amerigo, Rossella and Alessandro, is now a global market leader in the professional kitchen system planning and production sector. The Gruppo Angelo Po, which also consists of Enofrigo and Rational Production, is of great international importance and well known throughout the restaurant, catering and hotel business for its top-quality kitchen systems that are ergonomic, efficient and effective. As one of Food Innovation Program's technical partners, the company also helped to supply the Officucina with all its professional culinary equipment.
On July 17th students were escorted to the Angelo Po factory to visit the premise and learn how the company's specialized kitchen equipment is manufactured.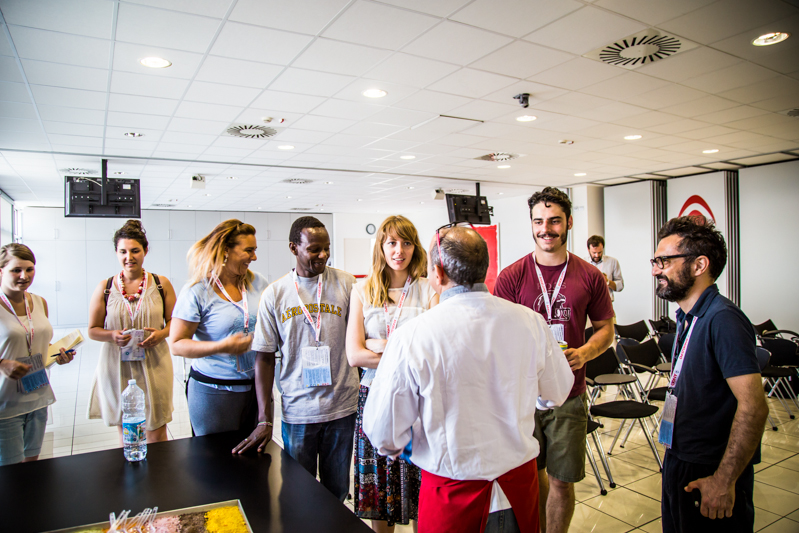 Upon arrival in Carpi, a small town in the province of Modena, celebrated for its industrial and craft activities, students were greeted by Marketing Manager Giacomo Spampinato.
The sociable Spampinato led the group through the factory to witness varied kitchen components and production processes such as pressing sinks out of steel for the Preparation 600 and 700 series. The company produces both open and cabinet sinks built in cold pressed 18-10 stainless steel. Many of the sinks are composed of different parts, which are later welded together. After the welding process, the weld line is still visible on the appliance, and so the sink passes through a line removal process with sand paper, which makes it seem as though it is only composed of one piece. If you want to have your own personalized sink design, it will set you back about €15,000. Yes, you need to have deep pockets and an undying love for the water basin.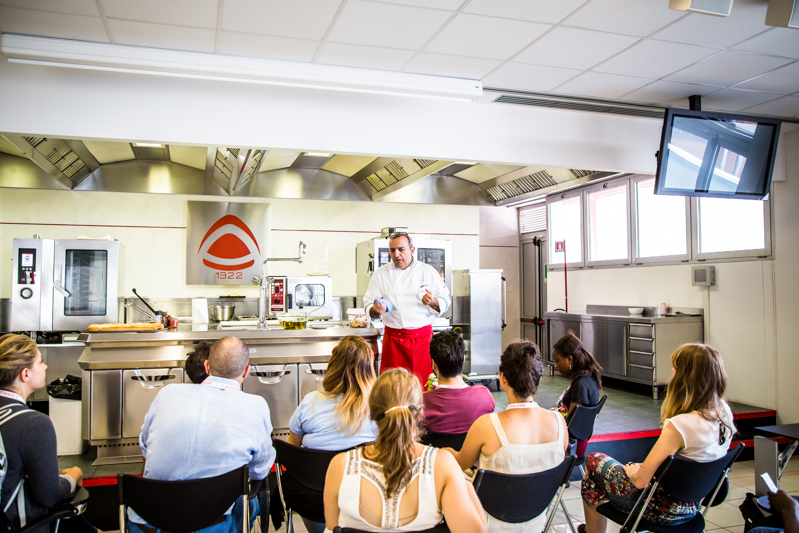 From the production floor the students were whisked off to the testing area, where kitchen appliance prototypes are tested in the laboratory. Here the team can conduct experiments such as testing diverse gas combinations with newly manufactured ovens, as every country has its own particular gas blend.
The final stop of the tour was the second floor of the building, where students visited the large 120-seat meeting room, and more importantly the test kitchen. Here the group was graced with the presence of flamboyant and charismatic Chef Ugo Pradello, who enlightened the group about the great advantages of using the Angelo Po range of Combi steam ovens, such as the Combistar FX. This oven not only includes an automatic eco washing system, but it also comes with innovative accessories like 'smokestar', which allows you to cold or hot smoke meat, fish, cheese and vegetables.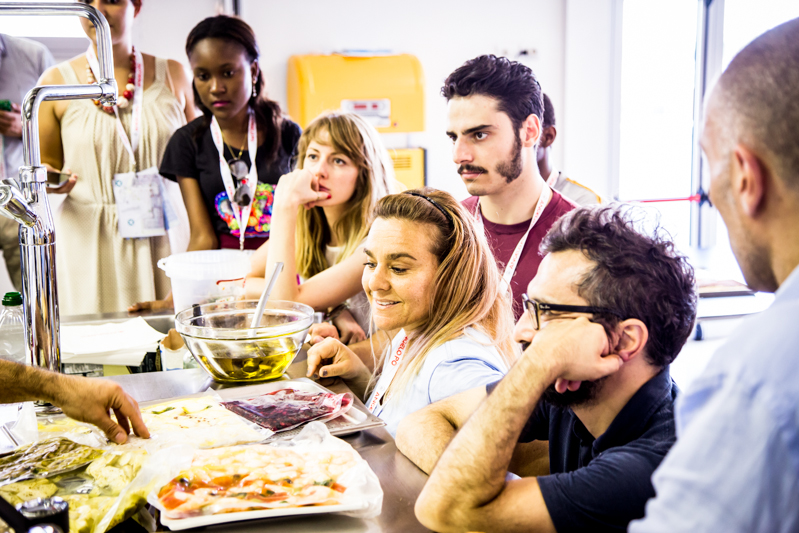 "In a steam oven, meat, fish, vegetables and many other products can be prepared in wonderful ways," noted Pradello. For example, chicken can be cooked to perfection in a vacuum bag at 60-80°C. By working within this range and adopting the correct cooking time, any traces of salmonella will be eradicated and the chicken will stay juicy. Another advantage that comes with vacuum cooking is the fact that the shelf life of the product will be prolonged. Pradello mentioned, "The chicken could have a shelf life of 25 days, provided that it's preserved in the vacuum bag". If you compare this device to a normal oven it is also superior in its ecological properties, in that this device will save 90% of the energy that is normally used.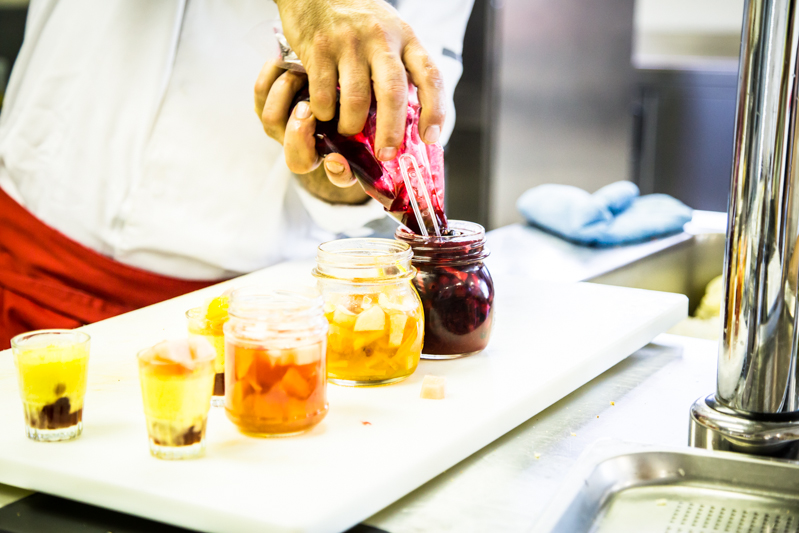 The tour culminated with a delicious lunch by Chef Pradello, in which all dishes were prepared using vacuum and low temperature cooking. Memorable platters included a whole lime-zest smoked chicken that was soft and salacious, a tangy herb-crusted salmon, delicate tempura vegetables, and baked ricotta topped with mixed herbs and a combination of lime and orange zest. Meatballs with a melange of olives, mixed-coloured capsicums and tomatoes were also devoured. During the meal Chef Pradello presented the group with six different seasoned salts that he uses to infuse the food with additional flavour, such as sale affumicato (smoked salt) and sale di café (coffee salt), which stole the heart of many. Sampling all the food was a fantastic way for Chef Pradello to show off his culinary prowess, but also to see how effective these cooking techniques are  in maintaining and enhancing the natural juices and flavours of whatever one cooks.
"We have shown you the most interesting and modern techniques to get the best possible production," said Spampinato. "Vacuum and low temperature cooking helps preserve the quality of food during the transformation process. At the end we have also shown you how to apply an older culinary philosophy [smoking] with new, modern technologies" to create a wonderful meal. "We are trying to train people how to respect food," added Chef Pradello and this philosophy encompasses environment, people, health, and how to bring cooks closer to good technology.