As a week long event, London Food Tech Week covered everything from hackathons and UX design for food apps, to coffee roasting and vlogging. The future of food was on display and participants around the globe joined to explore what is in store for that thing that connects us all: food. A hot topic of conversation was obviously production. It's clear that technology and food production can go hand in hand, but just how was what The Future of Food Production workshop hosted by RE.WORK was all about. The evening explored what a sustainable food future might mean in terms of advancing technology, and what tools (such as agtech, artificial intelligence, IoT & synthetic biology) can contribute to our future.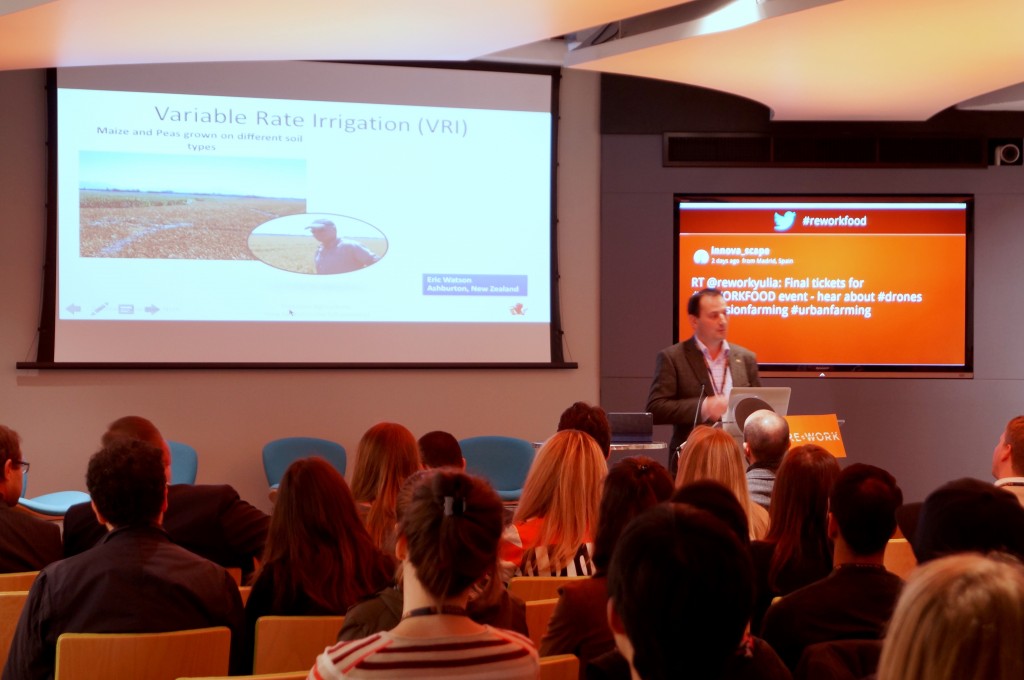 The panel was hosted at IDEALondon, an innovative incubation spaced by the University College of London, Cisco and DC Thomson. The physical space is in the heart of London's Tech City, an emblematic location for the work they are doing fostering the growth and advancement of tech startups. The hosting company, RE.WORK is an events organizing company that brings together technology, science and entrepreneurship to help shape the future, specifically in the business and societal realms. They put together an exciting panel with a variety of food entrepreneurs who opened up about what the future of food production looks like from their point of view.
A big welcome was given by Georgie Barrat, Journalist and Presenter at TechCity News. Georgie keeps an eye on food and tech from the media point of view, and as a regular contributor to various popular outlets (including the Huffington Post and Marie Claire) she is always able to put a social spin on the latest in the future of food. She was followed by Managing Partner of Beddoes & Williamson, Andrew Williamson, who got deep into his own experiences in farming, and what precision farming can mean for the future of food. As partner in a farm in South Shropshire, UK growing wheat, barley, oats and oilseed rape he shared his own experience employing precision farming techniques such as machine guidance and remote sensing to get the most out of resources and inputs, especially on a larger scale.
Next up was Oscar Rodriguez, Director of A&F (Architecture&Food) where he leads consultant teams on building integrated food architecture. Producing food isn't just for the ground level, Oscar pioneers access to urban foodscaping through architecture, at every level. He talked about the potential for rooftop urban gardening, and what it could mean for fresh food access in urban environments. "If only 5% of London rooftops were used for farming, it would produce enough for 150g of veggies per day per Londoner," claims Oscar.  
After, we heard from Agnieszka Nazaruk who spoke about how technology is making growing your own produce at home increasingly easy. As Co-Founder of Niwa, Agnieszka is working to make "effortless growing on every scale." Niwa integrates hydroponic growing with an app that helps manage and monitor your growing fresh fruits, veggies and herbs. Agnieszka wants to make fresh food the standard, and sees a way to give even novice growers access to home grown produce regardless of time, space or resource constraints. The app uses collected data to optimize growing plans for individual users. As Food Innovation Program fellow Hildreth England tweeted, "The knowledge of a farmer distilled into an easy-to-use app."
Chris Green then took the stage to present Flying Food: Unlocking the Agricultural Potential of Urban Airspace. As a Designer-in-residence at London's Design Museum and former research fellow at the MIT Senseable City Lab, Chris set the frame for a future of food run by drones. His idea is to give different drones different jobs, from fertilizer management to harvesting, and mapping out urban airspace to maximize efficiency. While he sees this as a project that will emerge in time through the hard work of many, he is making sure that it is getting attention now. "It's obviously something that no one individual can tackle alone," he said. "When it comes to mapping airspace, you need a whole new way of thinking. This isn't something that can be deployed tomorrow, but it is something we can fit in, in the future, whether it's in five years, or ten years."
Moving from the conceptual to the actual, a panel called Innovation in Farming through Collaboration brought together Andrew Williamson of Beddoes & Williamson, Rory Macphee, Project Director of Mara Seaweed and Stephanie Race, CEO of Crop Performance. Rory Macphee is preparing for a future of food that moves from the land to the sea with his project Mara Seaweed that promotes seaweed as a healthy, nutritious and sustainable food option.
"My late mother was an Epicure who loved to eat seaweed and cook it for us. I was eating some carraigin pannacotta one day, and was listening to a radio talk on food miles. Why, I thought, did I have to buy seaweed from Japan? Could I not get it locally. No, was the answer. So I decided to look into this. How an island like ours, sitting in clean cold water, surrounded by seaweed, could I not actually get to eat seaweed," explained Macphee. From this small thought, he has helped to build a global food brand. Working out of his native Scotland, he is ethically and sustainably harvesting seaweed that is later sund-dried to capture the intense flavours and micro-nutrients. "We are promoting a business with a strong brand value of ethical localism. I only pick at certain times to ensure ecological sustainability," he says.
When asked about his favourite Mara Seaweed product and recipe Rory answered, "smoked dulse powder, which the top chefs love – full of protein, iron, potassium and taste, and it goes perfectly on a margherita pizza as a final flourish. I have been perfecting this recipe for four years. My laboratory to start with was a beach in Cornwall where I lived for a full summer with a beautiful young dancer. Seaweed, fire, different trees for contrasting smoking notes – a boat, a net – what more could a chap need?"
Rounding out the panel was Stephanie Race who is creating an analytics platform for sustainable agriculture as CEO of Crop Performance Ltd. The remote sensing allows for data networks that enable increased yields and better distribution of resources. Consumers and producers alike benefit from these methods, as it provides more stable access to commodities and evaluation of risk for growers.
Roundtable discussions at the end provided time and space to talk about the key areas of food production where technology can make an impact. The variety in the presentations was outstanding, and a lot of crucial data was shared in a space of open and innovative idea collection. Thank you RE.WORK for hosting a great evening.