The Food Innovation Program (FIP) is making forward movement with the launch of its 2.0 program this fall. After last year's success in bringing together 20 students from 11 different countries, the 12 month Master's course will continue to focus on collaboration between diverse bright minds to mold the next generation of future food leaders. A creative learning and design thinking approach in the curriculum allows students to explore the global food system through a critical lens, through joint partnerships between  the University of Modena and Reggio Emilia (Unimore), the Future Food Institute of Bologna (FFI), and the Institute for the Future in Palo Alto (IFTF).
Food is at the forefront of the innovation scene, with all aspects of the food system ripe for disruption. From agriculture and production, to distribution, purchasing and consumption, the Food Innovation Program puts human interaction with food at the forefront of their investigative curriculum. FIP Program Director Matteo Vignoli shared with us his enthusiasm for the upcoming year. "The program is designed as a learning environment for students. There is not a constrained path. Instead, it provides a rich set of opportunities and insights that are crucial to understand personal motivations and interests. Learning innovation is like learning to dance with ambiguity, feeling perfectly fine in an uncertain environment. This rich and complex environment, embedded in the urban scene, will be enriched in this year's edition."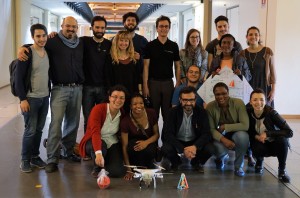 The program is broken down into three distinct phases (Inspiration, Aspiration and Perspiration) taken from a platform for entrepreneurial learning developed by the FFI. However, this year's focus will be entirely international. Says Vignoli, "FIP 2.0 will be a truly global program. Last year students were able to participate in EXPO, bringing the world of food to Italy. This year we're launching a global mission, so students can get in touch with real problems directly around the globe." Vignoli acknowledges the need to understand the food system at every level. "We don't believe in global problems. We think there are local needs that make a global impact. Students need to get in touch with the local environments directly in order to make change."
As last year, the program will begin with the Inspirational track in Reggio Emilia, in the heart of the Italian Food Valley. From September to December students will have a chance to experience a region of Italy that has the highest number of traditional food products that are globally recognized as the best in the field, including Balsamic Vinegar of Modena and the coveted Parmigiano Reggiano. Vignoli sees Reggio as the optimal location to introduce innovation education to students. "Innovation and tradition are two faces of the same coin. Tradition is innovation that was successful in the past. Italy is a place where there is a lot of tradition around food because there is a lot of innovation. Reggio, with its food knowledge and legacies, is a good starting point for those who want to study how food will evolve in the future."
In addition to food, Reggio is a region famed for its unique approach to education. Every year thousands of teachers arrive in Reggio to better understand how to educate the next generation of global citizens. Says Vignoli, "Students need to learn how to self motivate. If we can just breathe the air of Reggio then the students will have higher chance of being involved in a global innovation discourse."
Seminars, lectures and conferences are led by a series of professors and experts from the food realm and beyond. "What is different here," says Vignoli, "is that we are asking for a different perspective from professors. Usually they are talking about the past, but instead we ask them to bring their latest research to FIP and focus on what they wish to know. Our approach is totally focused on the future. We want students to see what happens next." Visiting FIP professor and Associate Director of the UC Davis Initiative for Wireless Health & Wellness Matthew Lange chimes in, "FIP's global reach means that they attract the most motivated and capable students, and is reflected in the caliber of projects they produce. I am honored to teach such promising food and tech leaders of tomorrow."
In the new year, students will take part in a two-month Food Innovation Global Tour where students explore food innovation hubs in both Asia and in the USA. This segment makes up the Aspiration track, and students will be accompanied by coaches as they explore the international food world. "We want students to be self-motivated. The Global Tour is to help students develop themselves and understand what they want to do in life and why. The coaches will support them through that," explains Vignoli. In Asia students will visit Shanghai, China for a look at innovation in the food industry, and then move to Singapore for research and development exploration. From there they will visit Tokyo, Japan for an up-close look at a country with a strong culinary history and a known link between health and food.
In the United States, students will travel both coasts touching down in the heart of California's Silicon Valley and in Boston, a university haven for technology, research and innovation. Partners at UC Davis and Stanford will create a unique experience for FIP students surrounding a mix between "data and food, tech and food and digital transformation and the food industry," as Vignoli points out. Over in Boston, students will have the opportunity to collaborate with partners from MIT media lab and see leading research in the future of food.
Finally, students will return to Reggio for the Perspiration track. This will be the core of learning innovation. Vignoli points out, "The only way to learn innovation is by doing it. We will put the students in real projects with real companies. These will be projects that have a global span with sponsoring companies. This isn't just about having ideas, it's about making them happen." FIP is making plans with organizations in London, Barcelona and Paris, among others, to immerse students into the research and development phase of food operations.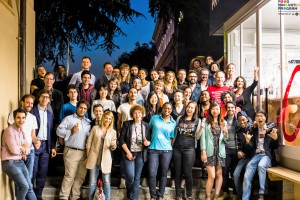 The Food Innovation Program is an unparalleled Masters. Says Vignoli, "There is not such a thing as an innovation program, other than ours. Graduate programs usually deal with the past. They are very good at presenting what's available in literature and society up to now. But FIP deals with the future. The whole program is conceived to acquaint students with the future, in order to be inspired from the future and make it happen." Applications are now open, with scholarships and funding for students from around the world. Make it happen!