Once Google Central St Giles had a taste of 3D food printing, it was too fun to stop there. The following day the FFI and FIP team of Antonio Gagliardi, Kelly Angela Lee and Hildreth England moved to the Google offices at 123 Buckingham Palace Road for another breakfast and lunch showcase. "I was impressed by the relaxed nature and 'non-startup' feel of the whole experience," says Hildreth. "The Google Food team knows what they're about. The environment was very professional, and everyone seemed flexible, calm and collected."
As the morning progressed more fellows of the Future Food Institute arrived and were treated to a special tour of the Google kitchen and cafe. "The introduction the chefs gave to us about their work and passion was absolutely amazing," says Chiara Cecchini. "They have a recipe turnover every three months in the canteen, and they adapt menus daily based on products available on the market. This is great!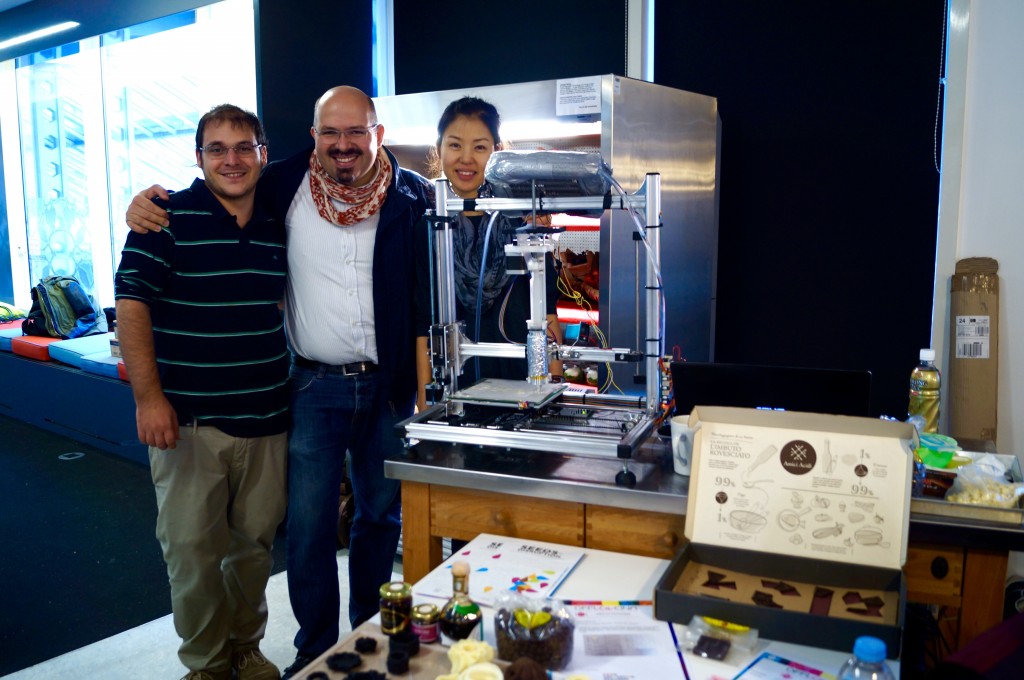 I also loved the links they made between food and working performances: they know that to make a Googler dynamic, the food experience should be dynamic too. They know human beings need to be driven, that's why they aim to 'make the best choice the easiest one.' They also know how smart the Googler is: that's why they empower them to cut their own food [at the fruit and vegetable stations], and to decide how much they want."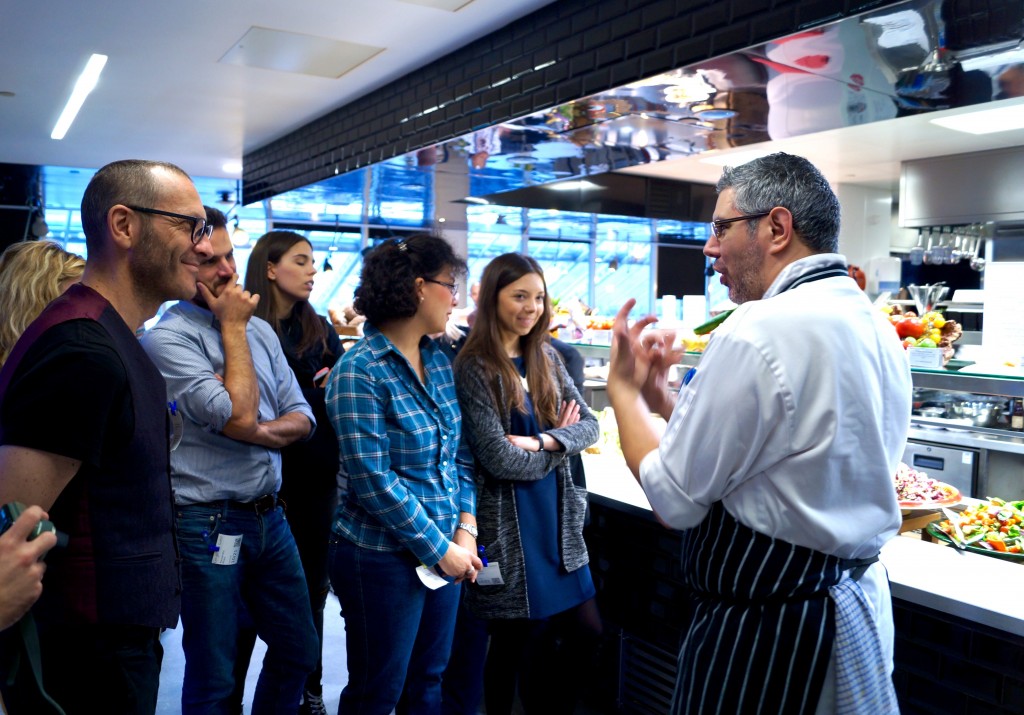 Hildreth, dietitian and health behaviour designer, observed the experience in a different light. "The cafeteria for Googlers was a prime example of what impact the design of physical space and initiative from an employer can have on encouraging, nudging, celebrating food that nourishes and inspires. The vibrancy of the canteen extended beyond the food available – you could see people coming into lunch or breakfast with a keen eye and informed appetite. It was extraordinarily different than most work office spaces I've seen or worked in…and 127% better. I know that Brian Wansink worked closely with Google Food, and he's a critical point of reference in my research on health behavior design.​"
After the tour, the 3D printer was transported to a private room adjacent to the cafeteria for an invitation only event. It was an opportunity for the Future Food Institute to showcase their work in the fields of higher education, research, digital fabrication and entrepreneurship. Food story-teller Nick Difino led the show, introducing guests and their work.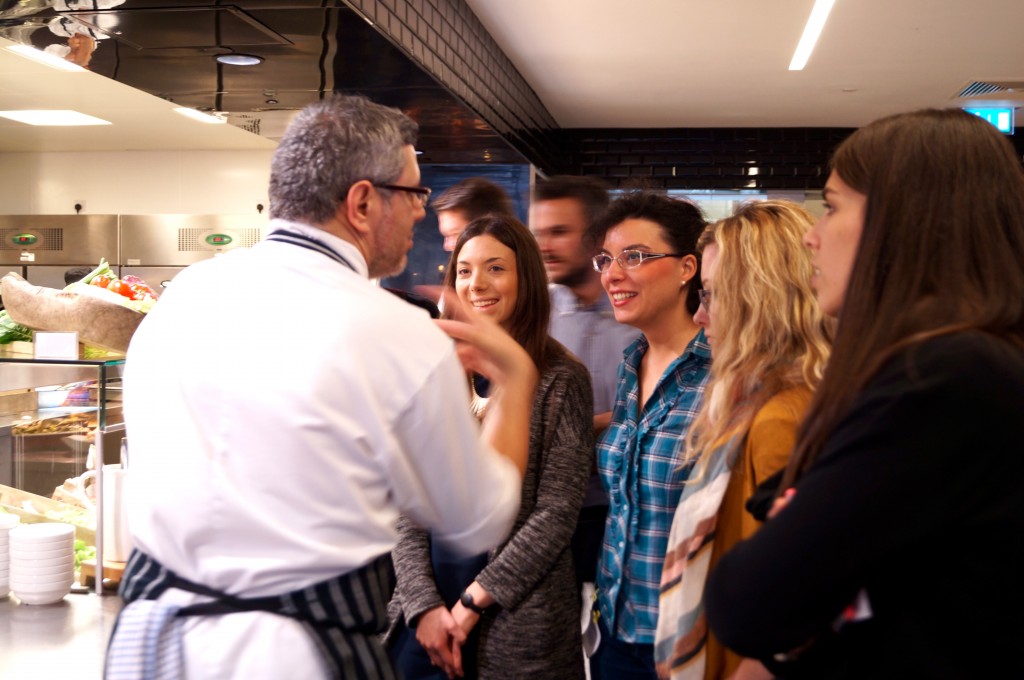 To kick-off Jim Glass (Food Service Manager EMEA) presented his Google Food team and the work of Chef Ben, who fashioned the creative menu for the afternoon. Guests were treated to a selection of hot and cold finger foods including: Tinned SPAM, airbag and piccalilli; Lyme Bay scallop ceviche with pickled watermelon and golden samphire; smoked chicken, with quail egg and smoked paprika; oyster beignet with kimchi, black sesame and spring onion; Ironbark pumpkin veloute, with pumpkin oil and goat's curd; salt baked celeriac with compressed Williams pear and black garlic; and a Comte mac 'n' cheese slider with fennel choucroute and sauce antiboise. The spread was fit for a king, or just a group of hungry and enthusiastic food innovators and Google employers that shared the space.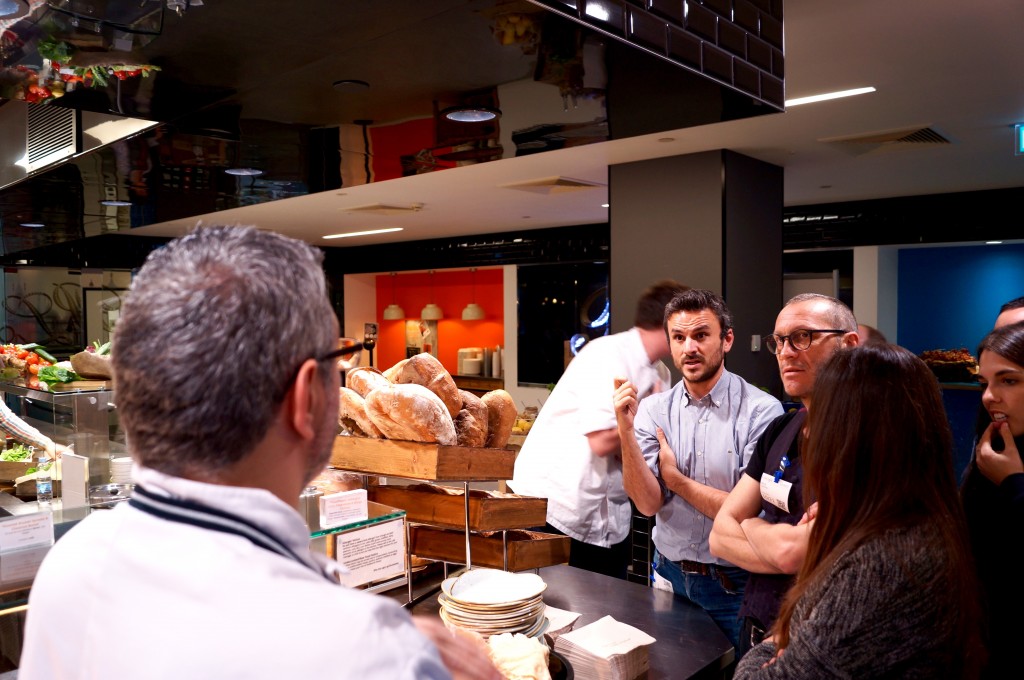 Tim West, chef turned social entrepreneur, took the stage to speak about his experience with food hackathons and the importance of cross-pollination. Francesco D'Onghia, Academic Coordinator of the Food Innovation Program, followed with an introduction to the Master degree, and how design thinking and disruptive innovation is integrated into the educative model. After, a panel discussion took place with four of our students – Elisa Bedin, Kelly Angela Lee, Hildreth England and Chiara Cecchini whose speech focused on "the bright space that's available to innovate in food that happens at the intersection of tradition and novelty," says Hildreth. "This space exists because as humans – and this is based on Claude Fischler's insights – we need 'innovation' in food to be a play on something we're already familiar with, or to be something completely new, with echoes of something that's familiar to us. FIP plays in this sandbox – where curiosity and necessity meet and goad us into trying new things because we have to, or because we just have to 'know'."
Innovating in the food space means "entering into a very intimate sphere of food choices, which are based in each individual's unique, personal story of food," she adds. "Food innovation can happen both with technology and without it. Chiara and I focused on changing behaviors around food with technology, Elisa spoke about the innovations that can happen in the long pathways that lead up to our kitchens and our tables (our 'foodscapes'), and Kelly talked about how innovation can simply happen in the kitchen, around food."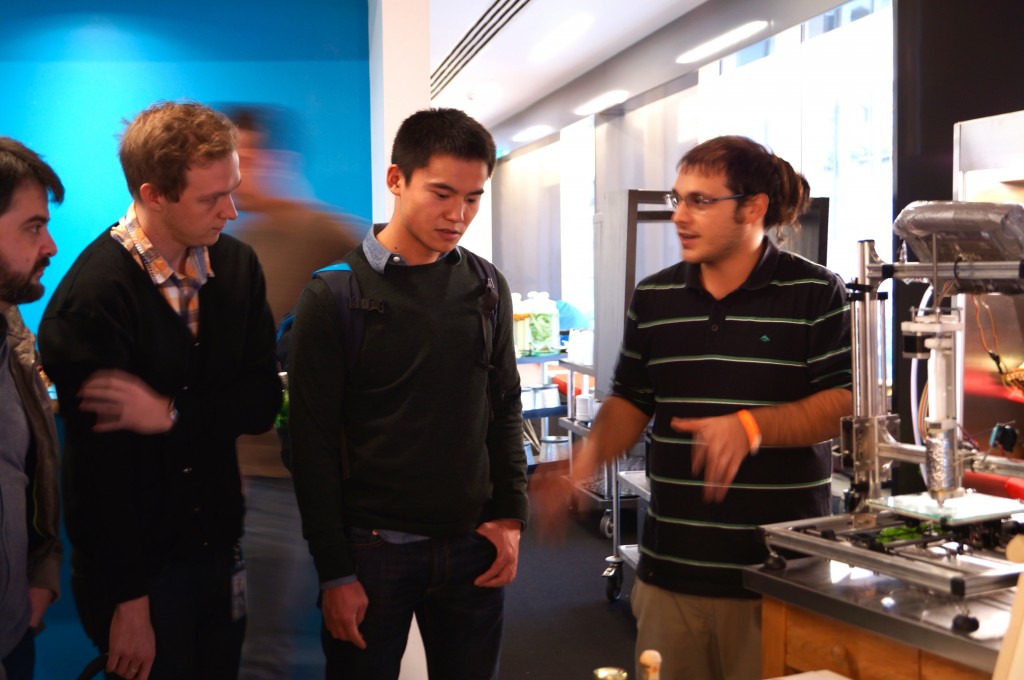 Guests were then encouraged to get up and experience 3D printing in action and hear about the digital fabrication team's experience at the Maker Faire in Rome. Andrea Bezzecchi from Acetaia San Giacamo in Reggio Emilia was there to showcase his traditional aged balsamic vinegar, which had been used in Rome for printing. The balsamic is combined with agar agar (vegetable gelatine) to jellify the already viscous liquid, so that it becomes a thicker paste-like mass for printing. Guests were treated to a sample of traditional 25 year old balsamic vinegar with printed white chocolate moulds. The 3D food printing process can be viewed as "innovation in food in many ways," says Hildreth.  "It's using technology to create a new food experience, but as we demonstrated with 3D printing chocolate…the taste of the chocolate won't be new, but the SHAPE of the taste will be new (familiar with a  hint of novelty). By contrast, when we talked about the 3D printed balsamic vinegar – both the shape and texture were new, which was less acceptable or more surprising (going further up the scale from the familiar to the novel). When we talked about combining the two tastes and textures, we were REALLY playing on curiosity, novelty and familiarity regarding food innovation."
It was then time for policy-shaker Alessandro Pirani along with WikiExpo ambassadors Mercy Chatyoka and Karla Gonzales Ramos, to explain the importance of the crowd-sourced platform memorializing the events of Expo for future generations, as well as FIP research projects. The FIPpers spoke about their experiences working with Expo officials, pavilions and clusters and how the website has been received by the wider public.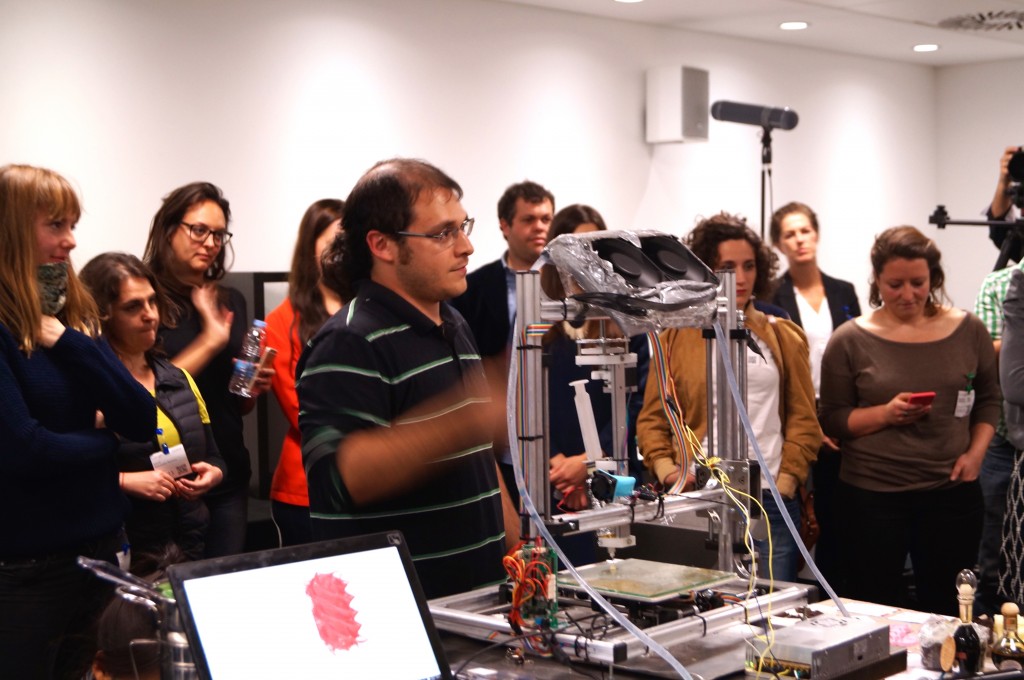 To wrap up the event Stefania Abbona from the Algae Factory introduced their newly developed chocolate bar, which combines rich extra-dark chocolate with spirulina (microalgae). Together with their NGO partner Antenna, The Algae Factory is supporting and promoting the development of Spirulina farms in Africa in the fight against malnutrition. A portion of the sales will go back to the communities that provide the company with this precious ingredient as part of their Bite4Bite Corporate Social Responsibility program.
The Future Food Institute and Food Innovation Program look forward to further collaboration with Google Food across all sectors. Chiara notes "We have awesome common points. Showcasing fields of research that we are developing (such as 3D printing) is a good start …we are eager to share and they are investing so much in research, so there is definitely mutual interest in growing these food projects. It would also be great to have a cooking workshop with their chefs. We have a level of [food] knowledge and diverse cultures that can help them to understand multiple, international points of view."
Hildreth adds, "I think Google Food could probably give FIP Fellows an informed angle on running a food business that isn't part of the startup culture, and let us take advantage of the massive amount of business acumen that Google Food has amassed (and shared) with the food and tech world. I'd love to see where an internship could take FIP Fellows, particularly Fellows with a non-entrepreneurial mindset". ​
Antonio chimes in, "How Google food manages the eating process is absolutely amazing. They use the best three ingredients to succeed: freedom, health and fun! I would like to challenge Googlers with some tests using 3D printed modular food while experimenting with Google Food on what kind of food we can fabricate, from crops to jelly!"
So Googlers, are you up for the challenge? We'll be waiting!